No Physical Conferences or Exhibitions this Autumn
It is 3 years since we spoke at Project Challenge re Programme Control not being all about the tool. Due to the pandemic many conferences and exhibitions have had to be postponed or created in the virtual world this year. Here at ProgrammExpress we have missed the opportunity to network with our competitors, learn about the latest methodologies adopted in the PMO world and of course attract new clients. We are all on a steep learning curve on how to replicate these conditions in the virtual world. Let's hope we can all get to meet up again soon.
We can't believe it is 3 years ago since Nick spoke with David Broom from Retail Fix spoke at Project Challenge – we thought we would share with you our thoughts.
Programme Control – It's not all about the tool
Having both worked on large Business Change Programmes over the last 25 years, we talked about how there is a need for flexibility in terms of Programme Governance, depending on the scope of the Programme, the type of organisation, and the nature of your Sponsors and Stakeholders..
It is never a 'one size fits all', but there is always a minimum level of Programme Governance required. Successful Programmes will always have a great Team, People, and Communications, and appropriate governance. A minimum level of governance, and 'less is more' approach to ongoing Programme Control has to be the start point for the majority!
Common Mistakes
There are a number of common mistakes companies make when they decide they need reporting tool:-
They try to develop into a Project Maturity that is a step too far (and possibly not required)
Engage with the whole business to develop requirements
This leads to only an e-ppm solution meeting the requirements resulting in:

Investing heavily (cost and time) and not realising the benefit, using minimum functionality, and only being used by resources with advanced level Project Management skills.
Long lead times to implement across the whole organisation that the requirement has changed by the time implementation has completed.
The journey of gathering requirements, selecting a solution, developing the business case fails at one of the stages – back to manual processes.

Develop 'in house' because they've already got the license!
A solution that will not realistically fit the different Business Change Programmes in the organisation.
What are your priorities at the start of a new programme?
Identify and appoint the Project Managers based on their:

Ability and knowledge
Sector experience
Fit with the culture and values of the client organisation
Fit with the nature and style of their stakeholders
Establish a relationship with my stakeholders and sponsor

Understand their style and approach
Recognise their priorities
Establish a "contract" for delivery and deliverables
Develop a communication strategy based on:

The organisation's style and values
The sponsor's requirements
Agreeing the minimum level of communication to satisfy the above
Establish a fit for purpose governance model based on

The organisation style and values
The sponsors requirements
A realistic view of how much time is available and required to maintain control
Identify the tool or tools we will use to manage the programme

Support the Governance model, not drive it
Simplify the Programme control process
Improve quality of Project meetings (discuss exceptions not status)
Demonstrate a Professional approach with Sponsors/Stakeholders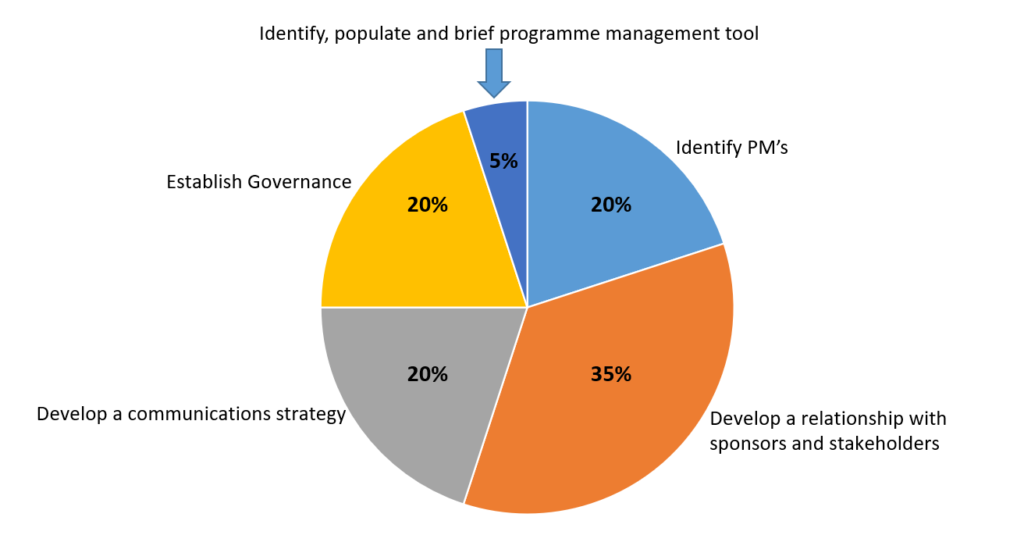 Our Experience
You have to get the programme established as quickly as possible, therefore:

Do not spent any time deciding which tool you should use to manage the programme
Do not spend any time or briefing project managers on how to report at programme level

Project managers should be tasked with managing their individual project with the necessary and appropriate rigour and attention to detail, using whatever tools they deem necessary or are comfortable using (Excel, MSP etc.)
The Programme Manager should be tasked with providing a simple and consistent summary of the programme status for the sponsors
One report has always been sufficient to achieve this goal, covering:

Achievements and targets for next period
High level milestones
RAG status of each workstream / project
Red risks and issues
Decisions required

We have never encountered a sponsor who has had to request more detail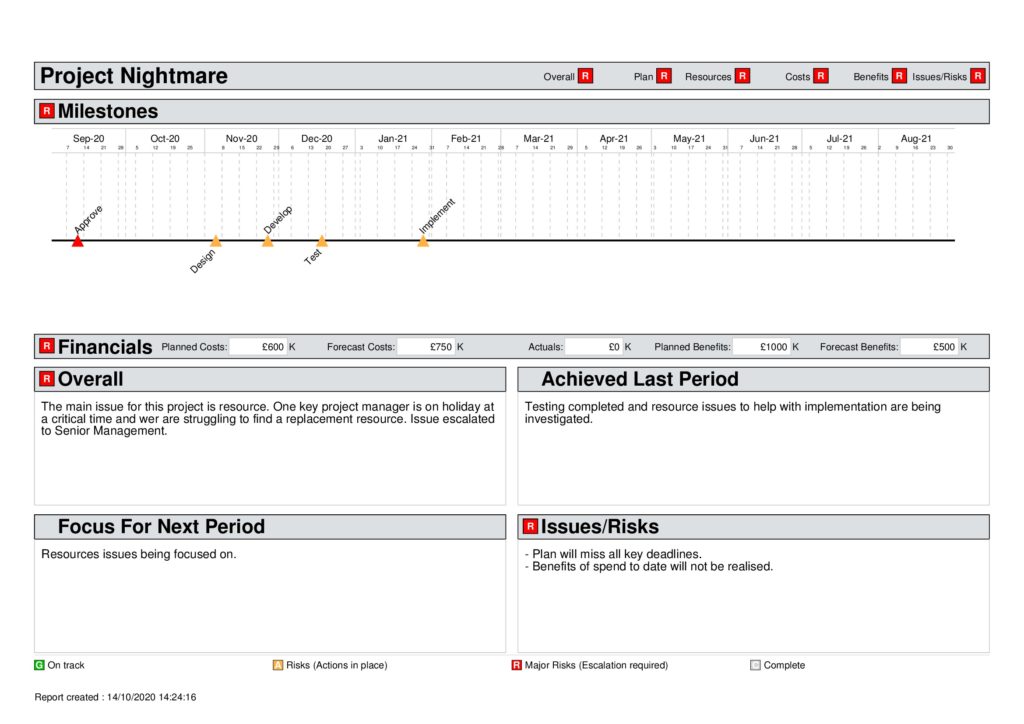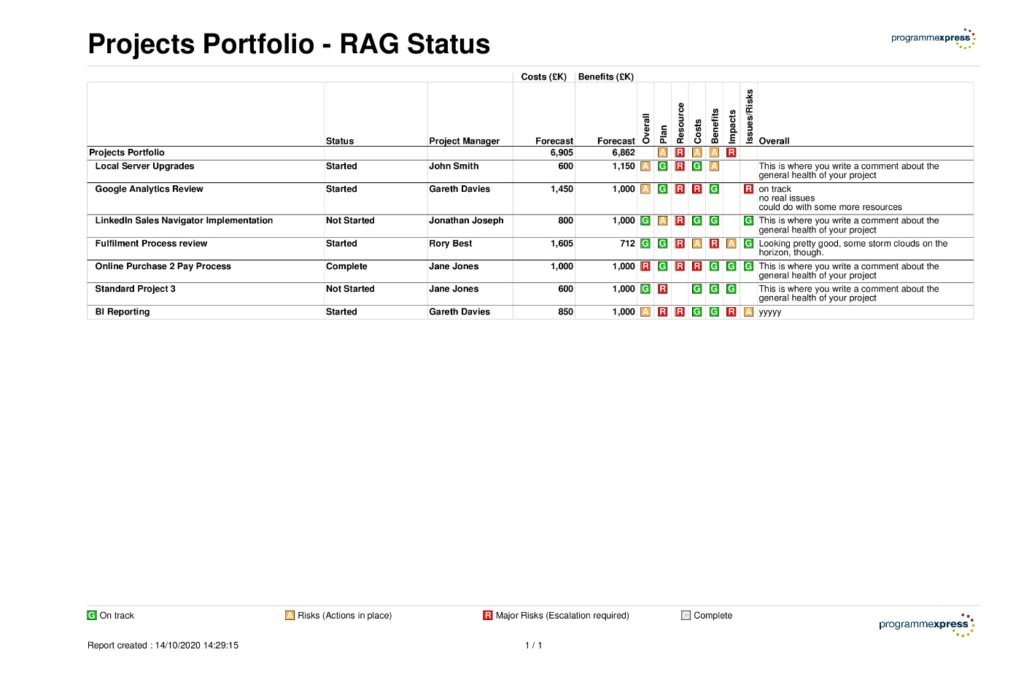 In the Real World
The majority of successful Business Change Programmes rely on great people, communications and governance
Implementation of, or enforcement of a 'rich in functionality' tool will not work in most instances
Engaging the best team to deliver means they need flexibility to 'do it their way', at work stream/project level
There is ALWAYS a requirement for quality / timely Project Reporting, keep it simple and that's a generic requirement!
And if you automate that element, then:-

Real time reporting
Reduction of manual effort
Better quality meetings – discuss the exceptions, not the status
How can ProgrammExpress help?
To meet specific requirements:-
Achieve consistency, consolidation and aggregation across Business Change Programmes
Automation and real time reporting, reducing time spent by Project Managers and Administrators
Supporting the minimum level of Programme Governance, specifically in terms of reporting periodic status
Simple enough for all organisational departments to utilise (not just IT and the skilled Project Managers)
What is our key message?
Aspiring to Enterprise PPM solutions may never materialise due to time and cost, and may leave you with manual solutions
Quality Project Governance is fundamentally important but:-

Be flexible
Don't over engineer
Get the balance right

Let Project Managers do what they do for managing their projects in terms of tools and systems
You need a solution at Portfolio and Programme level, and the simpler the solution, the more engagement across the organisation at all Project Maturity levels, the more multiple Business Change Programmes can adapt to, more chance of the 'Big Picture' being available
Tools and Systems are a small, but essential, part of the success of a Programme/Project!!
The full presentation can be viewed here.